Steel Plate Distributors & MORE
---
Not only is Delaware Valley Steel a steel plate distributor and supplier of products such as 4140 plates and a515 Grade 70 steel plates, (and an expansive collection of carbon, PVQ, alloy steel, and Grade A ABS plates), we also provide A36 steel road plates as well as a wide complement of plate processing services.
. For the last 60 years, Delaware Valley Steel has been offering services such as plate burning, plate-saw cutting, heat-treating, blanchard grinding, with local delivery options for Pennsylvania, New Jersey, Delaware, and Maryland as well as nationwide shipping services for further states.
Our company is one of the only teams in the Northeast region that provides thermal treating and uses a plate saw on-site. Our full array of services result in ready-to-use products for industries, such as power generation, heat exchangers, chemical & oil refining, and rotating machinery, freeing you from having to keep a full plate in stock, saving you inventory space and money. Read frequently asked questions to gain additional insights into the various services we offer, and for more information, contact our team today.
NEW! Now Offering Plasma Cutting!
---
We now offer precision steel plate cutting with our new CNC plasma cutting machine. In addition to faster speed, there are many advantages to using this machine on steel 1″ thick or less: by utilizing a much smaller cutting path there's less excess material, which means cleaner and prettier parts. Plasma-cutting steel eliminates the heat-effected zone of a cut, bringing less distortion on thinner plates, and it results in much tighter tolerances, making non-linear cuts much more feasible with a beautiful end result. Efficiencies in faster cutting times allow you to receive your material faster. Contact us today for more information on our new CNC plasma cutting machine!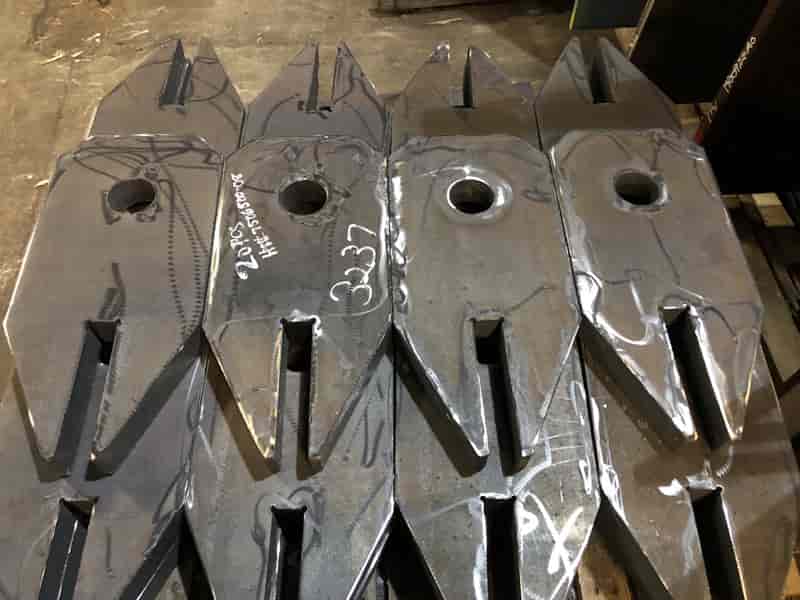 Full Complement of Plate Processing
---
These machines are fully programmable on our burning-specific CAD and Nesting software. We can program your drawing, or you can email us your own .dxf, .dwg, or other CAD drawing that can be imported directly into our machines. Please contact us for more information.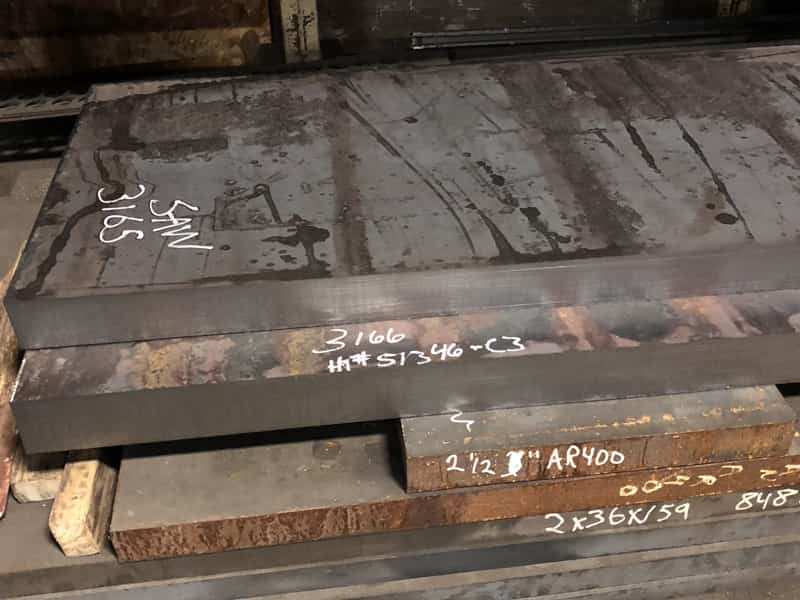 Plate Burning
---
Delaware Valley Steel is known nationwide for our expertise in cutting complex shapes. We offer plate burning at a variety of sizes ranging of 3/16" to 14" thick. We have our own plate saw, allowing us to cut a wide range of shapes and sizes. Contact us regarding your complex shapes and sizes, and let's discuss what plate-burning and plate-saw cutting services we can provide for you!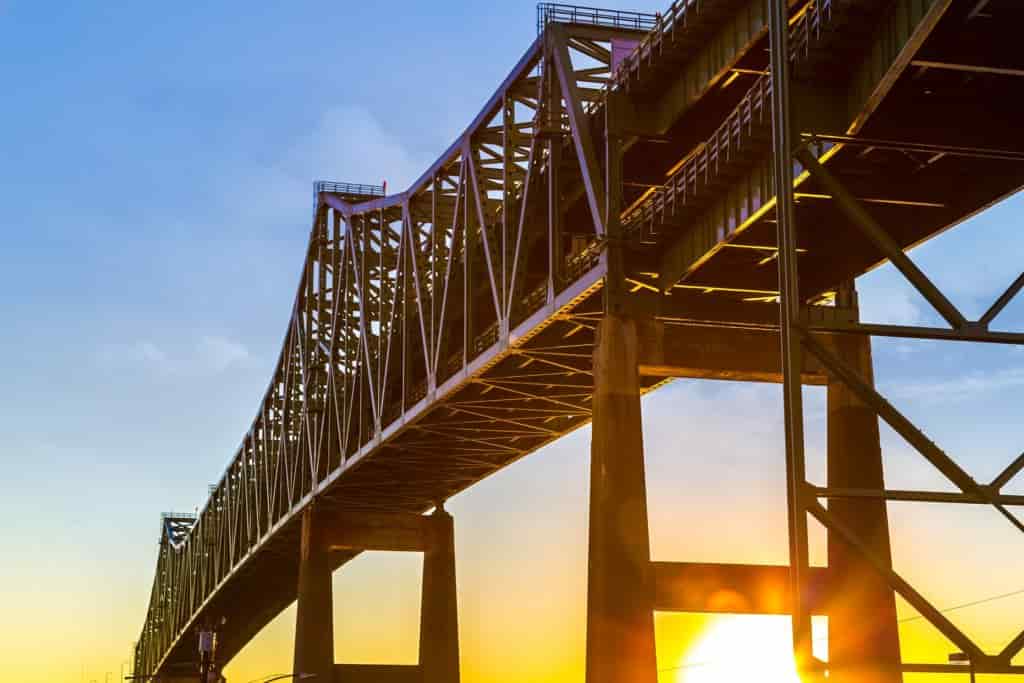 Full Traceability
---
Every piece of material from Delaware Valley Steel, including carbon, PVQ, and alloy steel, is fully traceable and includes no charge for copies of mill certification.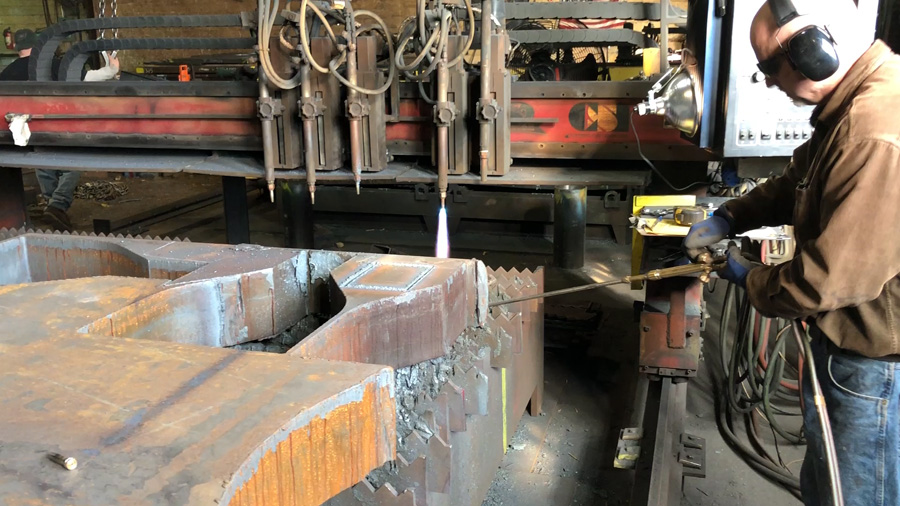 Plate Saw Cutting
---
We can saw cut any of our plates (or yours) into flats, squares, or near-machined large rectangles. We can cut as small as a 3/16″ x 3/16″ all the way up to 18″ wide. We are more than happy to quote you on saw-cutting material that you supply. The saw is also perfect for making those hard-to-find flat sizes that the bar mills no longer roll. You pick the width, and we can make it!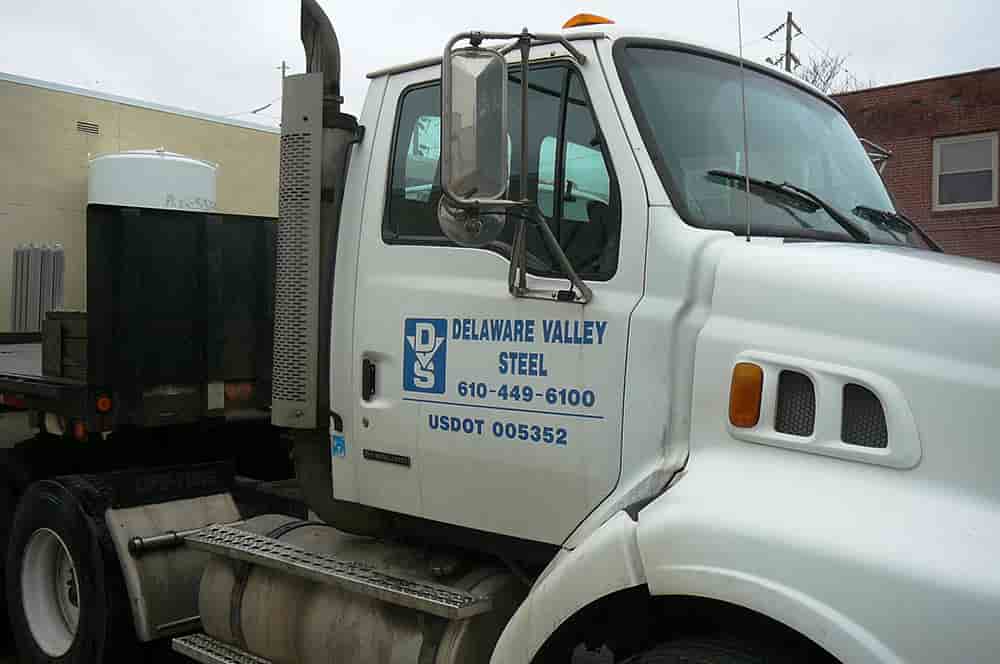 24-Hour Emergency Service
---
At Delaware Valley Steel, we value superior customer service. We offer 24-hour emergency service and are available for your pick-up needs, local delivery, and shipping nationwide. Call us at 800 322 4130 today for more information.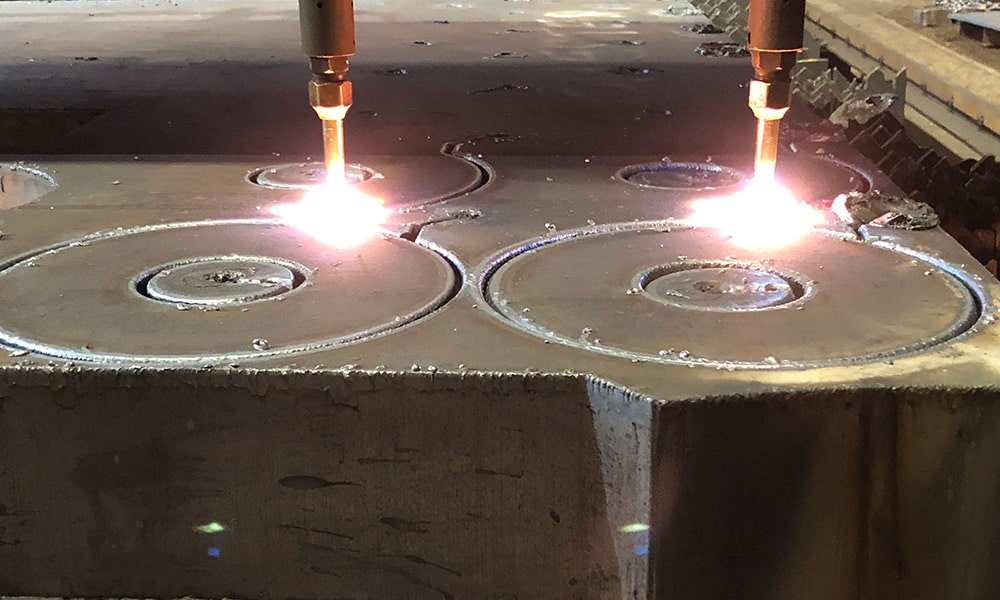 Delivery
---
We currently ship to Pennsylvania, New Jersey, Maryland and Delaware on our own fleet of trucks, operated by our own employees. Nationwide delivery is also available utilizing our network of LTL and flatbed carriers.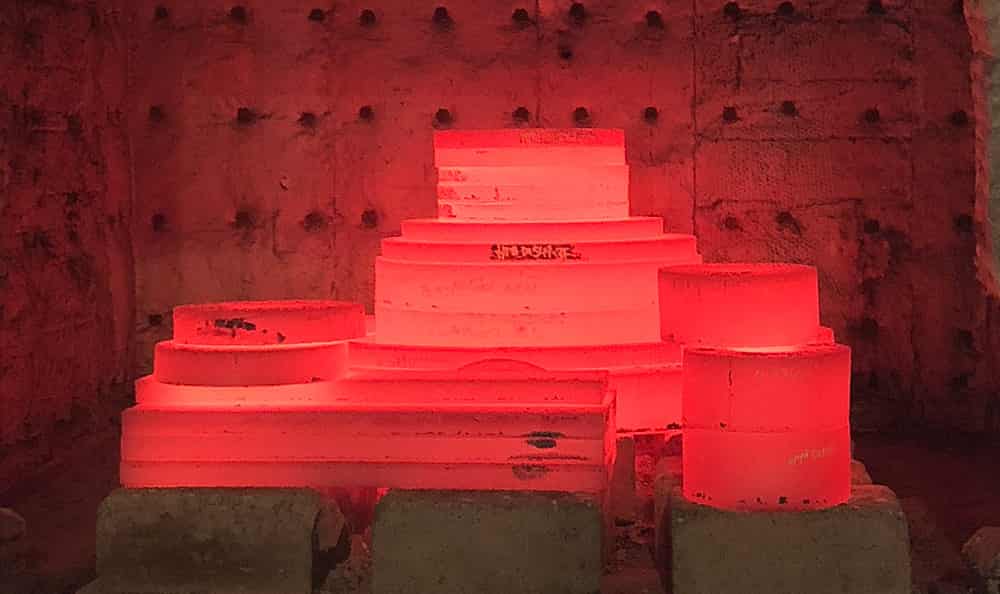 Heat Treating & Shot Blasting
---
We have our own NC controlled car-bottom furnace at your disposal. We can normalize, stress relieve, or anneal in-house. This has a two-fold benefit: (1) it helps cut your machining costs by providing a product that has had the heat-affected zone removed from the part; and (2) it cuts your acquisition costs, as we don't have to ship the material to an outside contractor.
Delaware Valley Steel also provides shot-blasting services to clean and polish steel after heat treating, which removes any carbon buildup for improved functionality and helps the metal regain its uniform texture and color.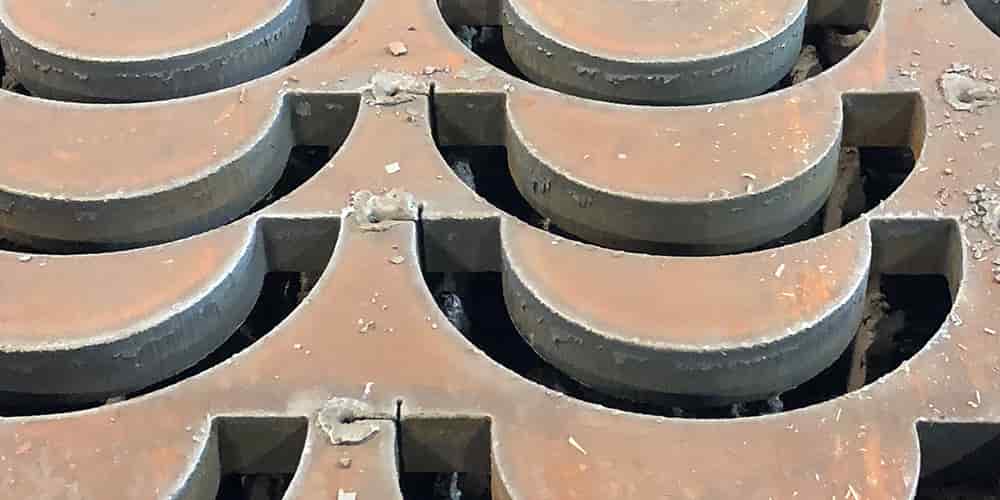 Special Requirements
---
At Delaware Valley Steel, we provide specialized services when needed. Do you have a hard to find grade? Special chemistry? Unusual testing? If we can't provide it, we will work to find someone who can help.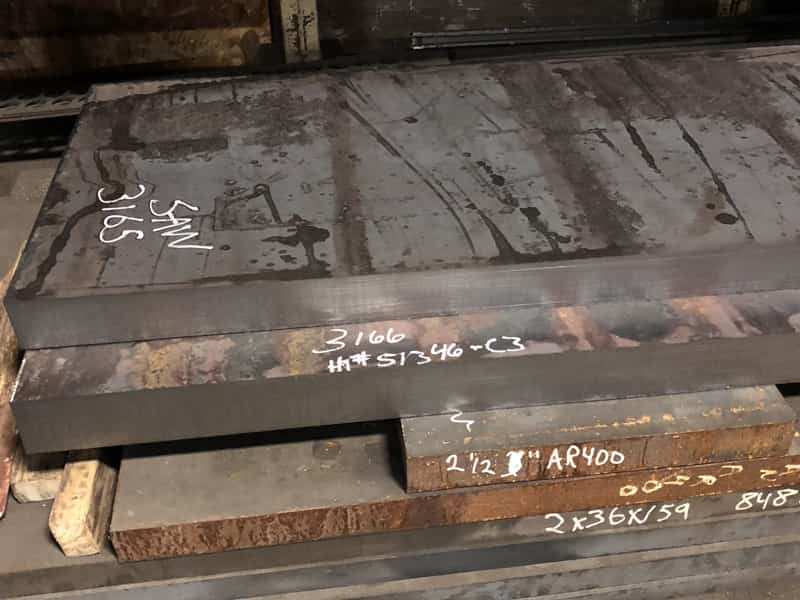 Blanchard Grinding
---
Known as the most efficient method of finishing a flat surface, Delaware Valley Steel offers Blanchard grinding services. Also known as rotary surface grinding, Blanchard grinding is best for large pieces of material and it leaves a signature grinding pattern and a surface finish around 65 RMS.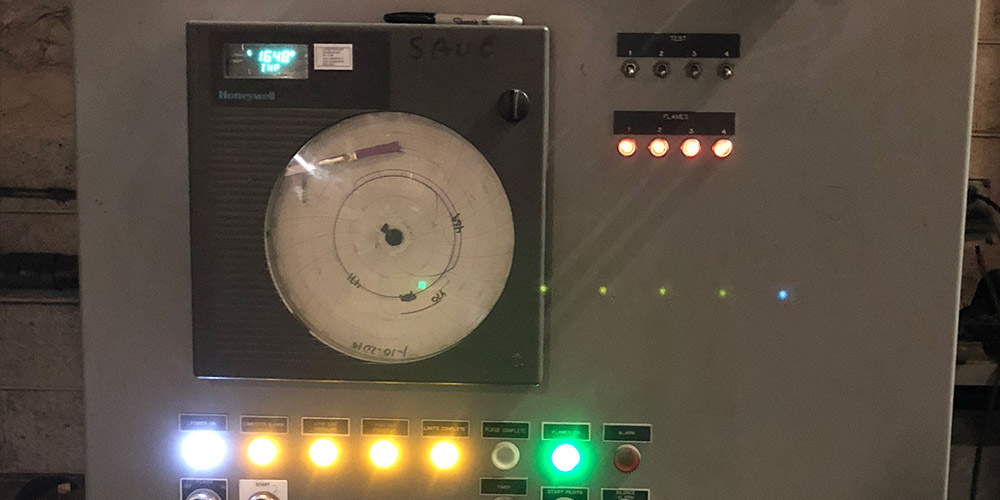 Supplemental Testing
---
At Delaware Valley Steel, we offer supplemental testing such as Charpy V-notch impact testing, a high strain-rate test; ultrasonic testing to detect any internal flaws in materials; through thickness to measure tensile strength, and more.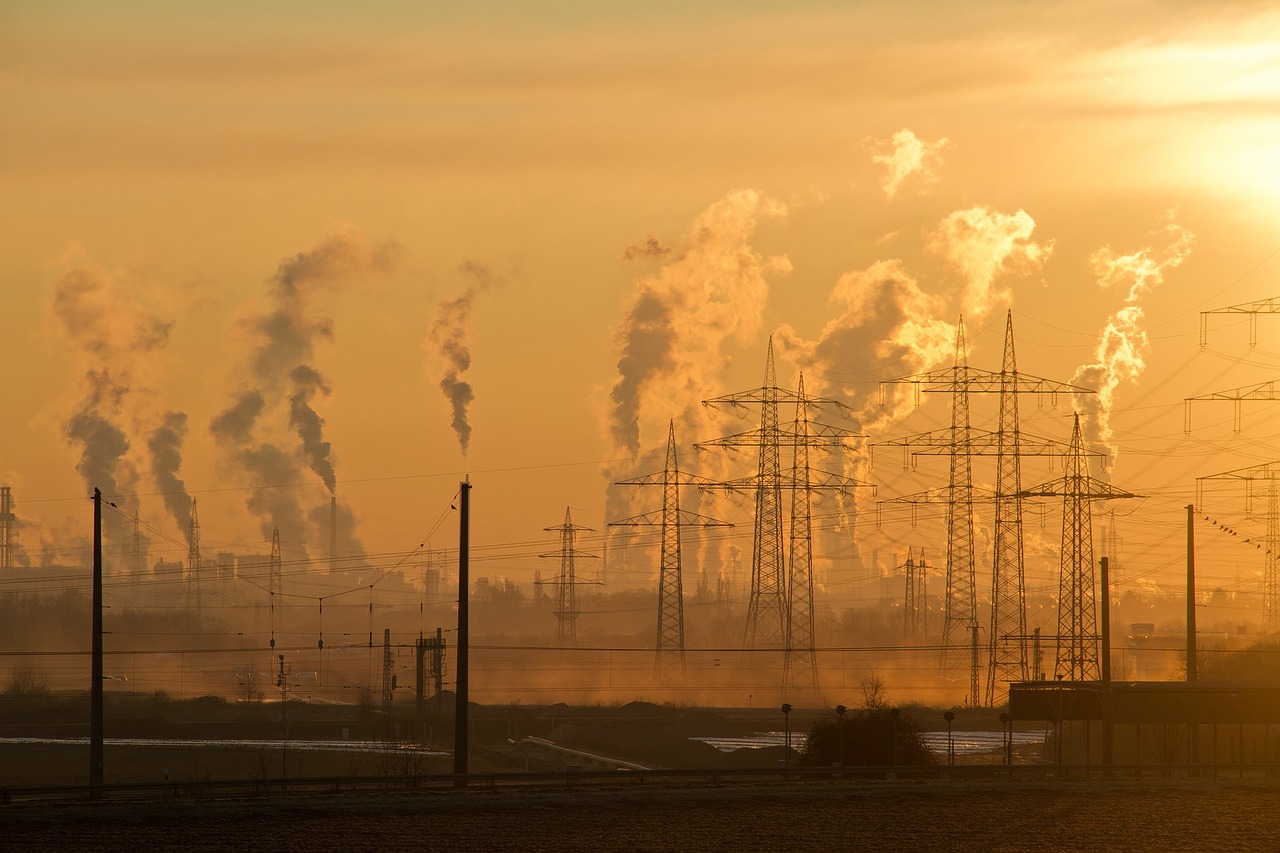 Infrastructure
---
Delaware Valley Steel can assist with highway repair, infrastructure, and bridge building supplies and materials. Contact us today to learn how we can help you during your next project.
Want More Information ?
For more information on our steel plate processing, or to contact Delaware Valley Steel for services or products, click below. An expert from our steel plate distributor is ready to assist you!
Contact Us